Use the search, use the categories. 90% of this blog is nothing more than links, a collection of sorts.
!!!Please forgive my updates as I build!!!
"………..we outline an abrupt climate change scenario patterned after the 100-year event that occurred about 8,200 years ago. This abrupt change scenario is characterized by the following conditions:"
Read this report, notice the dates.
An Abrupt Climate Ch ange Scenario and Its Implications for United States National Security October 2003
Everything starts with the sun.
The Sun is especially significant to our existence, it is the earth's very source of life.
The sun is slowing down. Solar cycle 24 was predicted to be an intense cycle. It has not. Not at all. It has been more active lately though, 11/5/2015, take a look.
The Sun is in the midst of its "maximum phase," though modest when compared with recent cycles. The link below is to NOAA, from 2014, the trend is lining up towards a shift in the climate.
NOAA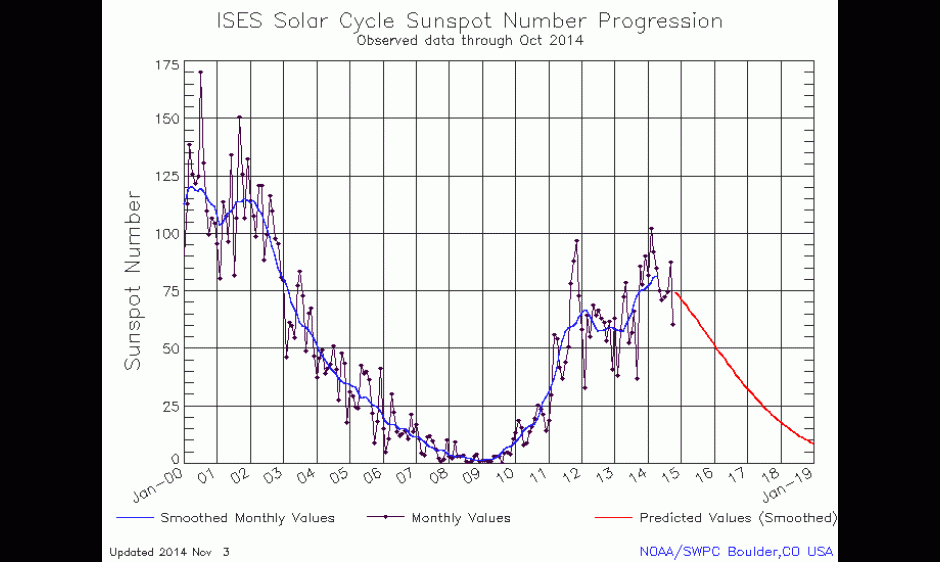 Current conditions
"The sun and the water vapor cycle are more important, thoroughly overwhelming and is utterly our very existence."
If we are mostly big boney bags of gooey water, and we breath water mist, because our atmosphere is 90% water vaper. Then how could the water vapor cycle not be more important to mention concerning what is known as global warming?
Everything has an equal and opposite reaction………………………….. so what is the earths reaction to global warming going to be. More warming? Higher sea levels? Less ice on the poles?
Look at the temp records for the last Millennium, see the frequency, up and down, up and down……………………….. but notice on average as much as you have an up, you have a balance.
……..notice the up, when the down comes, how much down could it be…………
It's climate CHANGE, it has been climate change, not global warming, it's the climate it's always changing. But on a global scale it is no longer a climate, it's a life.
Heat up water, it becomes mist, clouds, fog, air…………….. dump to much water in the mist, it will fall back down, cool the mist, cool the water……………..
Funny thing about clouds, and the color white. It reflects, more water vapor will add more clouds, more clouds will dump more water, snow, ice. The more sunlight that gets reflected back to space, leads to a cooling effect. And in turn the water becomes snow, and ice…………….white, which increased the reflection, which leads to more cooling, and cooling……………and finally a self-correction of the earth. It's an amazing regulatory system.
It's called the tipping point.